Community/training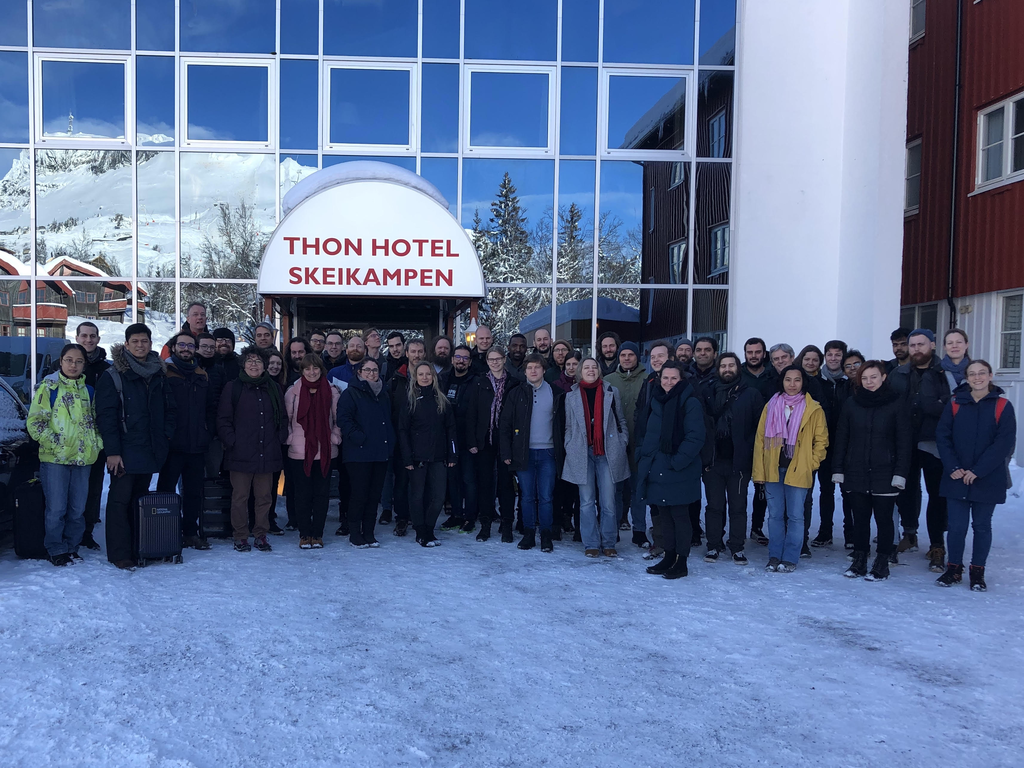 Background
A desirable side-effect of the NLPL cooperation is community formation, i.e. strengthening interaction and collaboration among Nordic research teams in NLP and advancing a shared level of knowledge and experience in using national e-Infrastructures for large-scale NLP research. Towards these goals, the project organizes an annual three-day winter school. For additional background, please see the archival pages from the 2018 and 2019 NLPL Winter Schools].
For early 2020, NLPL will hold its winter school from Sunday, February 2, to Tuesday, February 4, 2020, at a mountain-side hotel (with skiing opportunities) about two hours north of Oslo. The project will organize group bus transfer from and to the Oslo airport Gardermoen, leaving the airport at 9:30 on Sunday morning and returning there around 17:30 on Tuesday afternoon.
The main external instructors in 2020 will be Yoav Goldberg (Bar Ilan University and Allen Institute for AI) and Thomas Wolf (Huggingface). Additional sessions will be contributed by NLPL project members, including
Filip Ginter and Antti Virtanen, on multi-gpu training of language-specific BERTs;
Joakim Nivre and Artur Kulmizev, on syntactic dependency parsing in the neural age;
Stephan Oepen and Daniel Hershcovich, on the 2019 and 2020 CoNLL tasks on semantic parsing;
Jörg Tiedemann and Alessandro Raganato, with a practical crash course in neural MT.
Some sessions will combine lecturing and hands-on exercises. The winter school programme will be complemented with an evening 'research bazar' (by participants) to stimulate academic socializing and possibly a 'walk-through' of available software, data, and service resources in the NLPL Virtual Laboratory.
The winter school is subsidized by the project: there is no fee for participants and no charge for the bus transfer to and from the conference hotel. All participants will have to cover their own travel and accomodation at Skeikampen, however. Two nights at the hotel, including all meals, will come to NOK 2865, to be paid to the hotel directly.
Logistics
With a few exceptions, winter school participants travel to and from the conference hotel jointly on a chartered bus (the NLPL shuttle). The bus shall leave OSL airport no later than 9:30 CET on Sunday, February 2. Thus, please meet up at 9:15 and make your arrival known to your assigned 'tour guide' (who will introduce themselves to you by email beforehand). The group will gather near the bus and taxi information booth in the downstairs arrivals area, just outside the international arrivals luggage claims and slightly to the right, as one exits the customs area: The yellow dot numbered (17) on the OSL arrivals map. The group will then walk over to the bus terminal, to leave the airport by 9:30. The drive to the Skeikampen conference hotel will take us about three hours, and the bus will make one stop along the way to stretch our legs and fill up on coffee.

The winter school will end with lunch on Tuesday, February 4, before the group returns to OSL on the NLPL shuttle. The bus will leave Skeikampen at 14:00 CET, with an expected arrival time at OSL airport around 17:00 to 17:30 CET.
Programme
Monday, February 3, 2020
Breakfast is available from 07:30
08:30
10:00
Session 4 Yoav Goldberg: Interpretability and Black-Box NLP
Lunch is available between 13:00 and 14:30
15:00
16:20
Session 5 Thomas Wolf: Transfer Learning 1
16:20
16:40
Coffee Break
16:40
18:00
Session 6 Filip Ginter, Antti Virtanen, & Andrey Kutuzov: Experiences and a Hands-On Tutorial on Training BERT and ELMo from Scratch in a Multi-GPU Setting
18:00
18:10
Coffee Break
18:10
19:30
Session 7 Thomas Wolf: Transfer Learning 2
19:30
Dinner
Tuesday, February 4, 2020
Breakfast is available from 07:30
08:30
10:00
Session 8
10:00
10:30
Coffee Break
10:30
12:00
Session 9 Thomas Wolf: Limitations of Transfer Learning (Tentative Title)
12:30
13:30
Lunch
Registration
In total, we anticipate around 45 participants in the 2020 Winter School. Please register your intent of participation through our on-line registration form. We will process requests for participation on a first-come, first-served basis; the closing date for registration is Friday, December 13, 2019. Once confirmed by the organizing team, registration will establish a binding agreement with the hotel and a cancellation fee will be incurred (unless we can find someone else to 'take over' last-minute spaces).
Contact
The 2020 NLPL Winter School is organized by a team of volunteers, Li-Hsin Chang, Filip Ginter, Bjørn Lindi, Farrokh Mehryary, Joakim Nivre, Stephan Oepen, and Jörg Tiedemann. For all inquiries regarding registration, the programme, logistics, or such, please contact outreach@nlpl.eu.
Participants
Jordi Armengol-Estapé (Barcelona)
Pepa Atanasova (Copenhagen)
Jeremy Barnes (Oslo)
Ali Basirat (Uppsala)
Aleksandrs Berdicevskis (Gothenburg)
Maja Buljan (Oslo)
Li-Hsin Chang (Turku, co-organizer)
Manuel Ciosici (Copenhagen)
Cheikh Bamba Dione (Bergen)
Adam Ek (Gothenburg)
Filip Ginter (Turku, co-organizer)
Yoav Goldberg (Tel Aviv, presenter)
Rob van der Goot (Copenhagen)
Daniel Hershcovich (Copenhagen)
Andreas Holm (Copenhagen)
Safiqul Islam (Oslo)
Suwisa Kaewphan (Turku)
Jenna Kanerva (Turku)
Martin Krallinger (Barcelona)
Artur Kulmizev (Uppsala)
Maria Kunilovskaya (Wolverhampton)
Jenny Kunz (Linköping)
Andrey Kutuzov (Oslo)
Anna Lindahl (Gothenburg)
Ellinor Lindqvist (Uppsala)
Juhani Luotolahti (Turku)
Jan Tore Lønning (Oslo)
Arild Matsson (Gothenburg)
Maite Melero (Barcelona)
Farrokh Mehryary (Turku, co-organizer)
Antonio Miranda (Barcelona)
Joakim Nivre (Uppsala, co-organizer)
Stephan Oepen (Oslo, co-organizer)
Ildiko Pilan (Oslo)
Alessandro Raganato (Helsinki)
Vinit Ravishankar (Oslo)
Arradi Nur Rizal (Uppsala)
Samuel Rönnqvist (Turku)
Stian Rødven Eide (Gothenburg)
Jörg Tiedemann (Helsinki, co-organizer)
Samia Touileb (Oslo)
Erik Velldal (Oslo)
Daniel Varab (Copenhagen)
Marta Villegas (Barcelona)
Antti Virtanen (Turku)
Michael Welzl (Oslo)
Thomas Wolf (Huggingface, presenter)
Dustin Wright (Copenhagen)
Lilja Øvrelid (Oslo)